Summary rating from
11
user's marks. You can set own marks for this article - just click on stars above and press "Accept".
Accept
Yo Yo Honey Singh Biography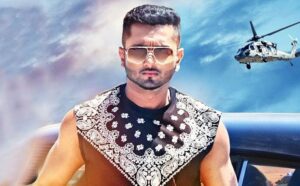 Name:  Hirdesh Singh
Nick Name:  yo yo honey singh
Nationality: Indian
Born City:  Hoshiarpur
Birth Date:  15 March 1983 ( Age 35 years)
Profession : Singer,Music Director
Height : 5 feet 8 inchs
Religion: sikhism
Record Label : Mafia Mundeer Records
College/University, :   Trinity School  United Kingdom
Father Name: Sardaar Sarabjit Singh
Mother Name: Bhupinder Kaur
Spouse/Partner: Shalini Singh (m-2011 )
Interesting Facts About Yo Yo Honey Singh:
Yo Yo means "Aapka Apna", he added it to his name to make it unique. He picked up this slang from his African-American friends.
His  album 'International Villager' has become the highest grossing Punjabi album of all time
Yo Yo Honey Singh Biography and Career:
Honey Singh also known as Yo Yo Honey Singh is a Punjabi rapper, Music Producer, Singer and Actor . He started as a session and recording artist, and became a Bhangra producer.

His birth name is Hirdesh Singh .
Singh prefers to sing in Hindi and  Punjabi . His debut song in Bollywood films was Shakal Pe Mat Ja, featuring Gagan Sidhu .He also  produced songs in the films Chennai Express and Boss.
Yo Yo Honey Singh charged Rs. 7 million for a song in the film Mastan . This was the largest amount paid to a song artist in Bollywood History .
Honey Singh made his acting debut with  Punjabi film Mirza – The Untold Story.
Diljit Dosanjh and Yo Yo  song " Lak 28 Kudi Da " reached No. 1 in the BBC Asian Download Charts ( 2011 ).
His Songs  earned two places (High Heels,  Brown Rang ) on YouTube's list of top 10 trending videos of 2012 .
Yo Yo Honey Singh Awards :
ETC award  (  Best Sound in 2006 for song "Glassi )
PTC award  ( Best Folk Pop Award 2009 for album Rebirth )
PTC Punjabi (  Best Music Director 2010 for song "Desi Daroo" )
PTC Punjabi (  Best Music Director 2011 for album The Folkstar   )
PTC Punjabi Film Award  ( Best Music Director,Best Male Debut, 2012 for Mirza – The Untold Story )
MTV Awards  ( Best Indie Artist (male) 2013 for song "Brown Rang" )
Zee Cine Awards 2014  (  International Icon Male )
Blue Eyes Full Video Song Yo Yo Honey Singh
Last updated ( 16 DEC 2018)