Summary rating from
11
user's marks. You can set own marks for this article - just click on stars above and press "Accept".
Accept
Nick Jonas Biography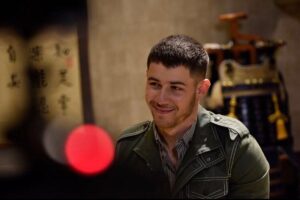 Name: Nicholas Jerry Jonas
Nick Name :  Nick,Mr President
Nationality: American
Born City: Dallas,Texas
Birth Date:  September 16, 1992 (Age 26)
Profession : Actor, Song writer
Years Active : 2000 –
Height : 5 feet 7 inch
College/University, :  Eastern Christian High School
Father Name: Paul Kevin Jonas, Sr.
Mother Name: Denise Miller-Jonas
Siblings: Joe Jonas,Frankie Jonas,Kevin Jonas
Wife/spouse: Priyanka Chopra ( m:2018)
Married to Priyanka Chopra   On December 1,2018.
Interesting Facts about Nicholas Jerry Jonas:
Nick Jonas's love for guitars is evident from the fact that he owns 12 of theme.
He was diagnosed with diabetes in 2005
Nick Jonas Biography :
Nick Jonas began acting in theater at the age of seven and nick  released his debut single in 2002.
Jonas form a band with his older brothers, Joe and Kevin, known as the Jonas Brothers.
Jonas Brothers released their debut studio album It's About Time through the Columbia label in 2006.
After signing with Hollywood Records in 2007, the group released their self-titled second studio album , which became their breakthrough record. The album entered the top five of the Billboard 200 in the United States.
This band became prominent figures on the Disney Channel .
Nick made his film debut along with his brothers in the  ( Disney Channel film  ) Camp Rock (2008).
Jonas was featured on OK!'s list of 2014's Sexiest Men Alive in world.
Nick Jonas Movies:
Best of Both Worlds Concert (2008 )
Night at the Museum: Battle of the Smithsonian (2009)
Careful What You Wish For (2015)
Goat (2016)
Jumanji: Welcome to the Jungle (2017 )
(Updated : 12 Dec,2018)