Summary rating from
6
user's marks. You can set own marks for this article - just click on stars above and press "Accept".
Accept
Noah Centineo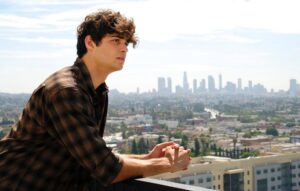 Name: Noah Gregory Centineo
Nick Name :  Centineo
Nationality: American
Born City: Miami, Florida, U.S.
Birth Date:  May 9, 1996 (age 22)
Profession : Actor
Years Active : 2009 –
Height : 6 feet 1 inch
College/University, :  BAK Middle School of the Arts,  BAK Middle School of the Arts
Father Name: Gregory Vincent Centineo
Mother Name: Kellee Janel
Siblings: Taylor Centineo
Interesting Facts about Noah Centineo:
Noah Centineo appeared in several Disney Channel productions.
Noah Centineo Biography :
Noah  is an American actor. He portrays Jesus Adams Foster in The Fosters (2013), for which he was nominated for a Teen Choice Award.
Centineo  grew up in Boynton Beach, Florida with his older sister, Taylor. He attended BAK Middle School of the Arts and Boca Raton Community High School, before moving to Los Angeles in 2012 at the age of 16.
Noah Centineo made his acting debut as Josh Peters in the family film The Gold Retrievers (2009).
His first notable role was as Jaden Stark in the Disney Channel film How to Build a Better Boy (2014).
In 2017, he  began starring as Hawk in go90's teen drama-thriller series T@gged .
He  starred in two Netflix original teen comedy films in 2018.
Movies:
The Gold Retrievers ( 2009)
Turkles (2011)
SPF-18 (2017)
Can't Take It Back (2017)
Sierra Burgess Is a Loser (2018)
To All the Boys I've Loved Before (2018)
Swiped (2018)
(Updated : 2 Dec,2018)