Summary rating from
10
user's marks. You can set own marks for this article - just click on stars above and press "Accept".
Accept
Hassan Rouhani Biography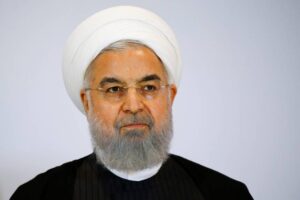 Full Name:  Hassan Rouhani
Date of Birth:  12 November 1948 ( Age 70 years )
Place of Birth: Sorkheh, Iran
Citizenship:  Iranian
Category: Politics
Education/University: University of Tehran, Glasgow Caledonian University (1995–1999 )
Father Name: Haj Asadollah Feridon
Mother Name: Sakineh Peivandi
Spouse: Sahebeh Rouhani
Children:   Mohammad Rouhani, Majid Rouhani
Hassan Rouhani Biography :
Hassan Rouhani is an  Iranian politician serving as the current and seventh President of Iran since 3 August 2013. He was also a lawyer,  academic, former diplomat and Islamic cleric.
Hassan Rouhani started religious studies in 1960, first at Semnan Seminary and then moved to  Qom Seminary.
He attended classes taught by prominent scholars of that time including Mostafa Mohaghegh Damad, Morteza Haeri Yazdi.
As a young cleric Hassan  started his political activities by following the Ayatollah Ruhollah Khomeini during the beginning of the Iranian Islamist movement.
( Updated : 18 May 2019)