Summary rating from
24
user's marks. You can set own marks for this article - just click on stars above and press "Accept".
Accept
justin trudeau life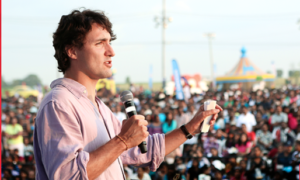 Name: Justin Pierre James Trudeau
Nationality: Canadian
Birth place: Ottawa, Canada
Birth Date: December 25, 1971
Profession : Politician
Party : Liberal Party of Canada
Height : 6 feet 2 inchs
Religion: Christian
Education : Bachelor of arts degree in literature ( McGill University ) , Bachelor of education degree ( University of British Columbia) , Master's degree in environmental geography ( McGill University )
23rd Prime Minister of Canada
Father Name: Pierre Trudeau
Mother Name :Margaret Trudeau
Siblings:  Alexandre Trudeau,  Michel Trudeau , Sarah Elisabeth Coyne ,Alicia Kemper , Kyle Kemper
Spouse: Sophie Grégoire Trudeau (m.2005 )
Children :  Ella-Grace Margaret Trudeau , Xavier James Trudeau , Hadrien Trudeau
Trudeau visits peacekeepers in Mali, defends decision not to extend mission ( 24 Dec )

Justin Trudeau slammed for paying USD 17,044 to chef for meal during India visit ( 28 June 2018 )

Trudeau fined $100 over gift of sunglasses  ( 28 June 2018 )
Interesting Facts About Justin Trudeau life
Pierre participated in and won a boxing match on behalf of "Fight for the Cure"
Justin began his campaign to run the Liberal Party on his late brother's birthday
Justin Trudeau Life Overview :
Justin is  the oldest son of former prime minister Pierre Trudeau and his wife Margaret and spent his early years at 24 Sussex Drive, the prime minister's residence in Ottawa
Justin Trudeau emerged as a prominent figure after delivering a eulogy at his father's state funeral in Oct 2000 . The Canadian Broadcasting Corporation (CBC) received numerous calls to rebroadcast the speech after its initial transmission .
 Trudeau supported the Liberal Party from his young age. After death of his father, he became more involved with the Liberal Party throughout the 2000.
 After the longest official campaign in over a century, Trudeau led the Liberals to a decisive victory in the federal election in  October 19, 2015.
 Trudeau and the rest of the Cabinet were sworn in by Governor General David Johnston on November 4, 2015.
Honorary degrees:
Doctorate   (United Kingdom ,University of Edinburgh)
Doctor of Laws (USA, New York University)
Last updated ( 24 Dec 2018 )