Summary rating from
23
user's marks. You can set own marks for this article - just click on stars above and press "Accept".
Accept
Shehbaz Sharif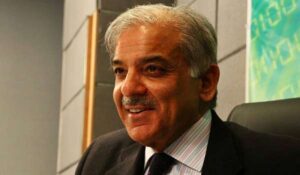 Name: Mian Muhammad Shehbaz Sharif
Nick Name: SS (Shahbaz Speed )
Nationality: Pakistani
Born City: Lahore
Birth Date:  23 September 1951
Profession : Politician,Businessman
Height : 5 feet 7 inches
Religion: Islam
College/University, : GC University Lahore
Degree: Masters in Economics
Father Name: Mian Muhammad Sharif
Mother Name: Shamim Akhtar
Spouse/Partner: Begum Nusrat Shahbaz(1973-1993),  Aaliya Honey(1993-1994),Tehmina Durrani(2003-present)
Siblings: Abbas Sharif, Nawaz Sharif
Children: Hamza Shahbaz Sharif,Salman Shahbaz,Khadija Shehbaz,Javeria and Rabia
PM concedes PAC chairmanship to Shahbaz Sharif 'in the interest of democracy'

  Opposition Leader and President PML-N Shahbaz Sharif has been arrested by National Accountability Bureau (NAB) against corruption on Clean Water Company….
Shahbaz Sharif elected Chairman of Public Accounts Committee unopposed

Accountability court sends Shahbaz on judicial remand ( 6 DEC )

Shehbaz Sharif sent to jail on judicial remand
Pakistan Muslim League (Nawaz) wholly rejects the results of General Elections 2018 due to manifest & massive irregularities. Form 45 was not given to our agents, results were stopped & votes were counted in the absence of our poll agents. This is both unbearable & unacceptable!
Interesting Facts About Shehbaz Sharif
He loves learning new languages.Shehbaz is fluent with Urdu, Punjabi,Seraiki ,Sindhi,Pushto, German, French, Arabic  and English.
Shehbaz Sharif As Politician:
Mian Muhammad Shehbaz Sharif(CM Punjab)  is a Pakistani politician  and brother of Nawaz Sharif . Shehbaz Sharif began his political career in 1988. He is 3 times members of provisional assembly and became 3 times chief minister of Punjab.
1988 to 1990 (1st term as provisional assembly member)
1990 to 1993 (2nd term as provisional assembly member)
1993 to 1995 (3rd term as provisional assembly member)
20 February 1997 to 12 October 1999 (1st term as Chief minister of Punjab)
June 2008 to 2013 (2nd term as Chief minister of Punjab)
June 2013 to  31 May 2018 (3rd term as Chief minister of Punjab)
 S.Sharif As Businessman :
Shehbaz Sharif is a businessman by profession and jointly owns Ittefaq Group.
Developments/Achievements :
The Metro Bus Project
Speedo Bus Lahore
The Metro Train Project Lahore 
Yellow Cab Scheme
The Punjab Youth Internship Program
Construction of Motorways in pakistan
Development of Information Technology Sector in the province.
Khidmat Center in Punjab
 Green Scheme
 Latest wireless system and transport were allotted to the police department
 Rehabilitation of flood victims in Punjab and Sindh
More Readings:
Shahbaz Sharif". DAWN.COM. 25 April 2013. Retrieved 

22 July

 2017.
Gallery:
(Last Updated 22 DEC 2018)