Summary rating from
14
user's marks. You can set own marks for this article - just click on stars above and press "Accept".
Accept
Dr Aamir Liaquat Hussain
Name:Dr Aamir Liaquat Hussain (عامر لیاقت حسین )
Nationality: Pakistani
Born City: Karachi
Birth Date:  5 July ,1971
Profession : Tv Show  Host
Height : 5 feet 6 inchs
Religion: Islam
College/University : Trinity College and University (Based in Spain(Degrees proved Fake))  Ashwood University (Fake Degree), University of Karachi(UOK), Federal Urdu University (FUU)
Education: Bachelor's of Arts (BA)  ,Master of Arts in Islamic Studies , Doctor of Philosophy (Phd) in Islamic Studies ,  ( Degrees proved Fake ) ,
Bachelor of Arts(UOK) , Master's degree in Islamic studies (FUU)
Father Name: Sheikh Liaquat Hussain
Mother Name: Ghousia Mehmooda Sultana
Spouse/Partner: Bushra Aamir ,  Tuba Aamir (m-2018 )
Siblings: Imran Liaquat
Children: Dua Aamir , Ahmed Aamir , Imran Liaquat
Interesting Facts About Aamir Liaquat Hussain
Most of Aamir Liquat Degrees proved fake.
He also runs a fashion brand on his name. Aamir Liaqat Lawn's Aanchal
He is one of world's Most Powerful(List of 500 ) Muslims (2015-2016)
 Aamir Liaquat Hussain Hosting/Tv Career
Aamir radio  was  broadcaster on FM101
Aamir  started his television career from Pakistan Television Corporation but was fired from PTC.
Aamir Liaquat  joined Geo TV  ( 2001 ) where he hosted religious program Aalim Online. In 2010, He left Geo TV .
 In 2010 Aamir Joined Ary Network    ,He worked as Managing Director of ARY Qtv .   He was also Executive Director of ARY Digital TV, He hosted religious program Aalim Aur Aalam there. He left Ary in 2012 .
In 2012, Dr Aamir  Joined Geo Tv again  and  hosted Pehchan Ramazan in 2012, after rejoining Geo TV, and Amaan Ramazan in 2013.
He became the vice president of Geo TV, in January 2014 and hosted game show Inaam Ghar.
In June 2014, Aamir  joined Express Media Group as president  ] and hosted Pakistan Ramazan.
In November 2014, He again joined Geo Tv, and  hosted Subh-e-Pakistan from November 2014,] and also became president in Nov 2015 of Geo Entertainment .
Aamir Liaquat   joined BOL media group in 2016, and started hosting current affairs talk show Aisay Nahi Chalay Ga.
 In 2017 ,He hosted Ramazan Mein BOL  during which he also started hosting a game show; Game Show Aisay Chalay Ga.
Aamir Liaquat 
Political career
In 2002, Aamir Liaquat Hussain was elected as the Member of the National Assembly of Pakistan  on the ticket of the (MQM)Muttahida Qaumi Movement from NA-249 Karachi-XI .
 In September 2004 He was appointed as the minister of state for Religious affairs  and Zakat and Ushar Division in Shaukat Aziz cabinet.
In 2008, MQM  expelled him from the party.
in March 2018, Aamir Liaquat  joined Pakistan Tehreek-e-Insaf (PTI )
Aamir liaquat With wife Tuba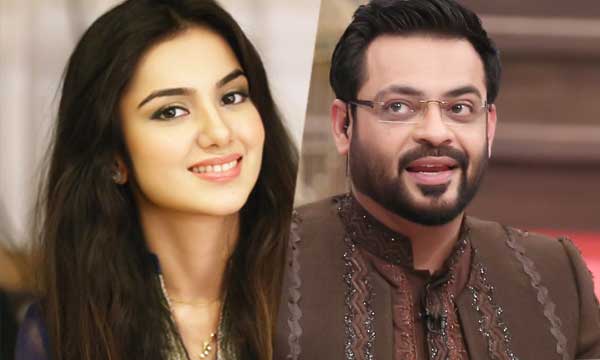 (Last updated 28 Dec 2018 )