Summary rating from
6
user's marks. You can set own marks for this article - just click on stars above and press "Accept".
Accept
jack ma Biography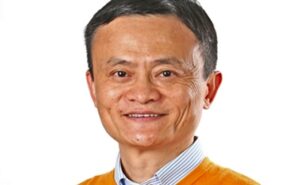 Full Name:  Jack Ma Yun
Nick Name: Jack Ma
Date of Birth: September 10, 1964
Place of Birth: Hangzhou, China
Age: 54 years
Citizenship: Chinese
Residence: China
Religion: He recently referred to his business and business philosophy as his "religion."  The Surprising Religion of Jack Ma
Education: Cheung Kong Graduate School of Business
University: Hangzhou Normal University
Occupation: Founder and Executive Chairman of the Alibaba Group
Net worth: $44 billion
Political party: Communist Party of China
Father Name: Ma Laifa
Mother Name: Cui Wencai
Spouse: Cathy Zhang
Children: Ma Yuanbao, Ma Yuankun
Jack ma Biography :
Jack Ma, originally Ma Yun, is a Chinese entrepreneur who was head of the Alibaba Group, which comprised several of China's most popular Web sites, including the business-to-business marketplace, com, and the shopping site Taobao.com.
He is a Chinese business magnate, investor, and philanthropist.
He and his siblings grew up at a time when communist China was increasingly isolated from the West, and his family didn't have much money when they were young.
He was a failure at academics, flunking university entrance exams three times in a row.
Jack is fundamentally known for being the author of the web-based business giant 'Alibaba', which is one of the top sites in the business.
He and Amazon founder Jeff Bezos both became billionaires, and two of the richest people in the world, through their successful e-commerce companies.
He declared in an interview about his failure, "I failed a key primary school test two times, I failed the middle school test three times, I failed the college entrance exam two times and when I graduated, I was rejected for most jobs I applied for out of college."
He is heavily influenced by martial art teachings, especially Tai Chi, which he claims helped him to find balance that he applies to both his personal and business life.
Ma developed an interest in environmentalism when a member of his wife's family became sick with an illness that Ma suspected was caused by pollution.
He married Zhang Ying, a teacher whom he met at school, after they graduated.
Achievements:
Ma was honored as one of the "Top 10 Economic Personas of the Year" by China Central Television.
In Sep 2005, the World Economic Forum selected Ma as a "Young Global Leader.
He was selected as one of the "25 Most Powerful Businessperson in Asia" in 2005.
In 2008, Barron's featured him as one of the 30 "World's Best CEOs.
In 2010, Ma was selected by Forbes Asia as one of Asia's Heroes of Philanthropy for his contribution to disaster relief and poverty.
In 2015, Asian Award honored him with the Entrepreneur of the Year award.
Ma was given an honorary degree of Doctor of Science in Technopreneurship from De La Salle University Manila, Philippines.
In May 2018, Ma was given an honorary degree of Doctor of Social Sciences honoris causa in recognition of his contributions to technology, society and the world by University of Hong Kong.
In May 2018, Ma received an honorable doctoral degree from professors Yaakov Frenkel and Yaron Oz at the Tel Aviv University in Tel Aviv, Israel.