Summary rating from
12
user's marks. You can set own marks for this article - just click on stars above and press "Accept".
Accept
Lee Kuan Yew Biography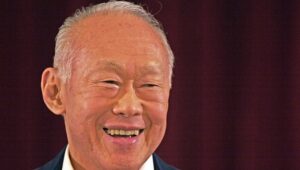 Full Name:  Lee Kuan Yew
Nick Name: LKY
Date of Birth: September 16, 1923 ( Age 91 Years)
Place of Birth: Singapore in the Straits Settlements
Citizenship: Chinese
Category: Politics
Education/University: He attained a scholarship to attend Raffles College (now National University of Singapore).
Died: March 23, 2015, Outram, Singapore
Cause of Death: Pneumonia
Father Name: Lee Chin Koon
Mother Name: Chua Jim Neo
Spouse: Kwa Geok Choo
Children: Lee Wei Ling, Lee Hsien Loong, Lee Hsien Yang
Interesting Facts (biography) about Lee Kuan Yew
Lee Kuan Yew was the first Prime Minister of Singapore, and served the country for 30 years.
Lee Kuan Yew is commonly referred to by the initial letters of his name LKY.
Lee was the first Prime Minister of Singapore, and governed for three decades
He became the Prime Minister of Singapore in June 1959.
Lee joined the Scouts for three years, and played cricket, tennis, and chess, and also took part in school debates.
He established an excellent academic record at Cambridge and won a star for special distinction by graduating with a "double first"—that is, first class honors in his two vital wide-ranging examinations.
His grandfather and father were considered middle class and both were English-educated.
Lee Kuan Yew had 3 brothers and 1 sister and he was the eldest of five children.
He met his wife when they were reading law at Cambridge and the pair got married in 1950.
Lee Kuan Yew passed away on 23 Mar 2015, he was 91 years old at that time.
Lee Kuan Yew had been suffering from ill health for 2 years previous.