Review as personality
7.7
Review as motivational speaker
7.3
Summary rating from
6
user's marks. You can set own marks for this article - just click on stars above and press "Accept".
Accept
Muniba Mazari Biography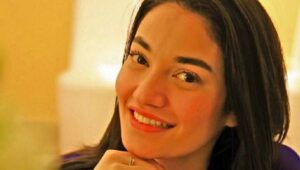 Full Name:  Muniba Mazari Baloch
Nick Name: Iron Lady
Husband Name: Khurram Shahzad (Ex; Pakistan Air Force pilot)
Children : 1 ( Nael Mazari )
Siblings:
Sarfraz Ali Mazari
Zulfiqar Ali Mazari
Date of Birth: 3 March 1987 ( Age 31 years )
Place of Birth: Rahim Yar Khan, Balochistan, Pakistan
Age: 31 years
Nationality: Pakistan
Residence: Pakistan
Religion: Islam
Education: Bachelor in Fine Arts
Occupation: Artist, motivational speaker, model
Instagram : @Muniba.mazari ( Account )
Facebook : Muniba Mazari
Some Interesting Facts about Muniba Mazari :
Muniba Mazari is a Pakistani writer, motivational speaker, and a brilliant artist.
She belongs to the Baloch background.
Mazari got her legs paralyzed in an accident when she was heading to her hometown Rahim Yar Khan, her husband fell asleep and hit the car. (2007)
After the incident, she had also adopted a boy which she calls her son.
Muniba Mazari is a first wheelchair anchor and model.
Since she divorced, she has been living the single life and never involved in any types of affairs.
Mazari is presently a Brand Ambassador for RYTHM Foundation of QI and in addition to UN Women Pakistan.
She was one of the 2 Pakistani women to be featured on this list by BBC in 2015.
She was listed by Forbes as one of the Top 30 under 30 in 2016.
She has worked with Chughtai Labs in Islamabad as their ambassador.
Muniba has given inspirational speeches at- VCon Malaysia(2017), Vcon Dubai (2017), Leadership Summit Pakistan.
Muniba Mazari Quotes:
Everyone said don't do it because it has never been done before. I said 'I will be the one to do it all for the first time' Muniba Mazari Quote
I needed a hero, I couldn't find one, so I became one. Muniba Mazari Quote
LEARN ENGLISH | MUNIBA MAZARI – We all are Perfectly Imperfect (English Subtitles)
( Last Updated : 28 January 2019)